Canada is known for its diverse and riveting culture which is shown by its vast and world renowned festivals. Everything from rock music festivals to sophisticated cultural events, Canadian festivals have attracted foreign visitors from all around the world.
Canadian Festivals 2021
1. Honda Celebration of Light, Vancouver (July/August)
Every year the Celebration of Light welcomes over 1.4 million visitors to the shores of the English Bay. You haven't seen fireworks until you've experienced this festival! The event hosts more than just fireworks, they also have live music, food & more before the light show begins.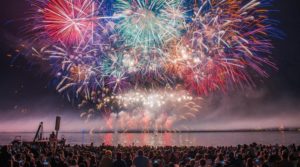 2. Osheaga, Montreal (August)
One of the largest festivals in the country. The music fest is a multi-day indie festival that takes place on six different stages. With its numerous outdoor stages located at parc Jean-Drapeau on Montreal's Sainte-Hélène's Island, Osheaga attracted 120,000 music lovers, from North America and Europe last year. A huge celebration dedicated to music and visual arts, Osheaga has given itself the objective of discovering local and national emerging talent offering them the opportunity to play alongside some of the biggest international artists in the business including: Coldplay, The Killers, Iggy & The Stooges, Sonic Youth, The Roots, Rufus Wainwright, Arcade Fire, Weezer, and Eminem.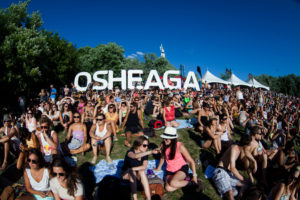 3. L'International des Feux Loto-Québec, also known as the Montreal Fireworks Festival, Montreal (June/July)
The most prestigious and largest fireworks festival in the world. It hosts an estimated 3 million spectators each year, with approximately 6,000 fireworks set off during each show. Each summer, eight or nine pyrotechnical companies from different countries present a 30-minute-long pyro-musical show, competing for the Gold, Silver, and Bronze Jupiters or trophies.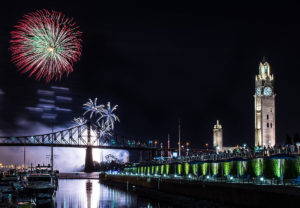 4. Winterlude, Ottawa & Quebec (February)
The event is one of Ottawa's most important tourist draws, attracting hundreds of thousands of visitors each year. Skate on the world's largest skating rink, check out the ice carving competitions, or enjoy yourself in a huge winter playground surrounded by majestic snow sculptures. There's fun for the entire family, and all sites are open on Family Day.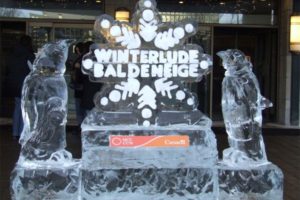 5. Peeks Toronto Caribbean Carnival, formerly and still commonly called Caribana, Toronto (August)
It is a Caribbean Carnival event, that has been billed as North America's largest street festival, frequented by over 1.3 million visitors each year for the festival's final parade and an overall attendance of 2 million. The festival was introduced to Canada by immigrants from the Caribbean Islands. It follows a Carnival format, particularly following the Trinidad & Tobago's Carnival, but also influenced by the street dancing and masquerading in costume found on every Caribbean island such as John Canoe in Jamaica, Crop Over in Barbados, and other similar festivals in Cuba, Haiti, and the Dominican Republic. This festival brings in the most revenue out of any festival to Canada every year.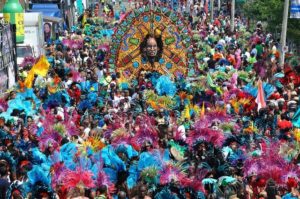 6. Toronto International Film Festival, Toronto (September)
One of the largest publicly attended film festivals in the world, attracting over 480,000 people annually. In 2016, 397 films from 83[2] countries were screened at 28 screens in downtown Toronto venues, welcoming an estimated 480,000 attendees, over 5,000 of whom were industry professionals. Year-round, TIFF Bell Lightbox offers screenings, lectures, discussions, festivals, workshops, industry support, and the chance to meet filmmakers from Canada and around the world.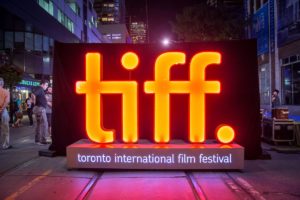 7. Quebec City Summer Festival, Quebec (July)
This event is an annual 11-day music festival in downtown Quebec City normally starting on the first Thursday of July. With its 135,000 passes sold, a total attendance of about 1.5 million festival-goers years in year out, and its hundreds of performances spread over a dozen venues, the festival has established itself as a major player on the music festival circuit. The festival grew substantially during the last decade after its decision to diversify its music offering and go after international headliners from genres across the board, including rock music, punk, hip-hop, classical music, francophone music, world music, and most recently electronic music.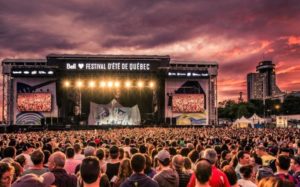 8. Festival International de Jazz de Montréal, Montreal International Jazz Festival, Montreal (June/July)
The Montreal Jazz Fest holds the 2004 Guinness World Record as the world's largest jazz festival. Every year it features roughly 3,000 artists from 30-odd countries, more than 650 concerts (including 450 free outdoor performances), and welcomes over 2 million visitors (12.5% of whom are tourists) as well as 300 accredited journalists. The festival takes place at 20 different stages, which include free outdoor stages and indoor concert halls. A major part of the city's downtown core is closed to traffic for ten days, as free outdoor shows are open to the public and held on many stages at the same time, from noon until midnight.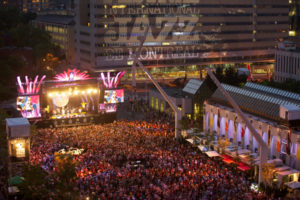 9. Pride, Toronto (June)
A celebration of the diversity of the LGBT community in the Greater Toronto Area. It is one of the largest organized gay pride festivals in the world, featuring several stages with live performers and DJs, several licensed venues, a large Dyke March, a Trans March, and the Pride Parade. Although a definitive count of attendees cannot be determined, estimates in recent years have ranged from 500,000 to over one million for the entire week and about 100,000 for the parade itself. The festival is often touted as being one of the largest cultural festivals in North America and the 22 city blocks that make up the festival site is closed to vehicular traffic.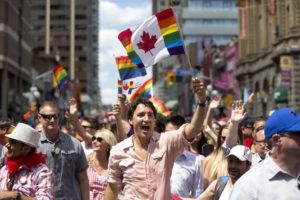 10. Pacific National Exhibition, Vancouver (August/September)
A nonprofit organization that hosts an annual 17-day summer fair, seasonal amusement park, and arena in Vancouver, British Columbia, Canada. It usually begins in mid-to-late August and ends in early September, usually Labour Day. The biggest attractions of the two-week fair are its numerous shops, stalls, performances, a nightly fireworks show, and the PNE Prize Home. The highest attendance the fair has recorded was 1.1 million in 1986,[2] most likely due to Expo '86 that was occurring at the time. The PNE was once the second-largest fair after the New York State Fair.